BDRit EXIN Privacy and Data Protection Foundation Certification Training


Human society is in the age of Big Data that collects data quickly and extensively and makes full use of it. However, data breaches and privacy violations are bringing increasing social problems. Nothing can be accomplished without norms or standards. Privacy and Data Protection laws and rules will provide basic guarantees for data protection and utilization in the era of Big Data. The implementation of "General Data Protection Regulation(GDPR)"from EU provides a reference for privacy and data protection worldwide. EXIN also launched Privacy and Data Protection Certificated Training based on relevant content of the GDPR. This training will enable participants to understand the basic concepts, basic rules and some basic methods of privacy and data protection.
Training Period 25.09.2021-26.09.2021
Training Method Online(Participate through CIO Times APP synchronous classroom)
Training Fees RMB8000/per (Including RMB2000/per certification fee)


Data Privacy Officers, Data Protection Officers, CIO, CDO, information security personnel, and all data processing personnel involved in privacy and data protection.

1, Privacy and data protection fundamentals & regulation
1.1, Definitions
1.2, Personal data
1.3, Legitimate grounds and purpose limitation
1.4, Further requirements for legitimate processing of personal data
1.5, Rights of data subjects
1.6, Data breach and related procedures
2, Organizing data protection
2.1, Importance of data protection for the organization
2.2, Supervisory authority1
2.3, Personal data transfer to third countries
2.4, Binding Corporate rules and data protection in contracts
3, Practice of data protection
3.1, Data protection by design and by default related to information security
3.2, Data protection impact assessment (DPIA)
3.3, Practice related applications of the use of data, marketing and social media
4, Summary
4.1, Summary of courses
4.2, Exam prepration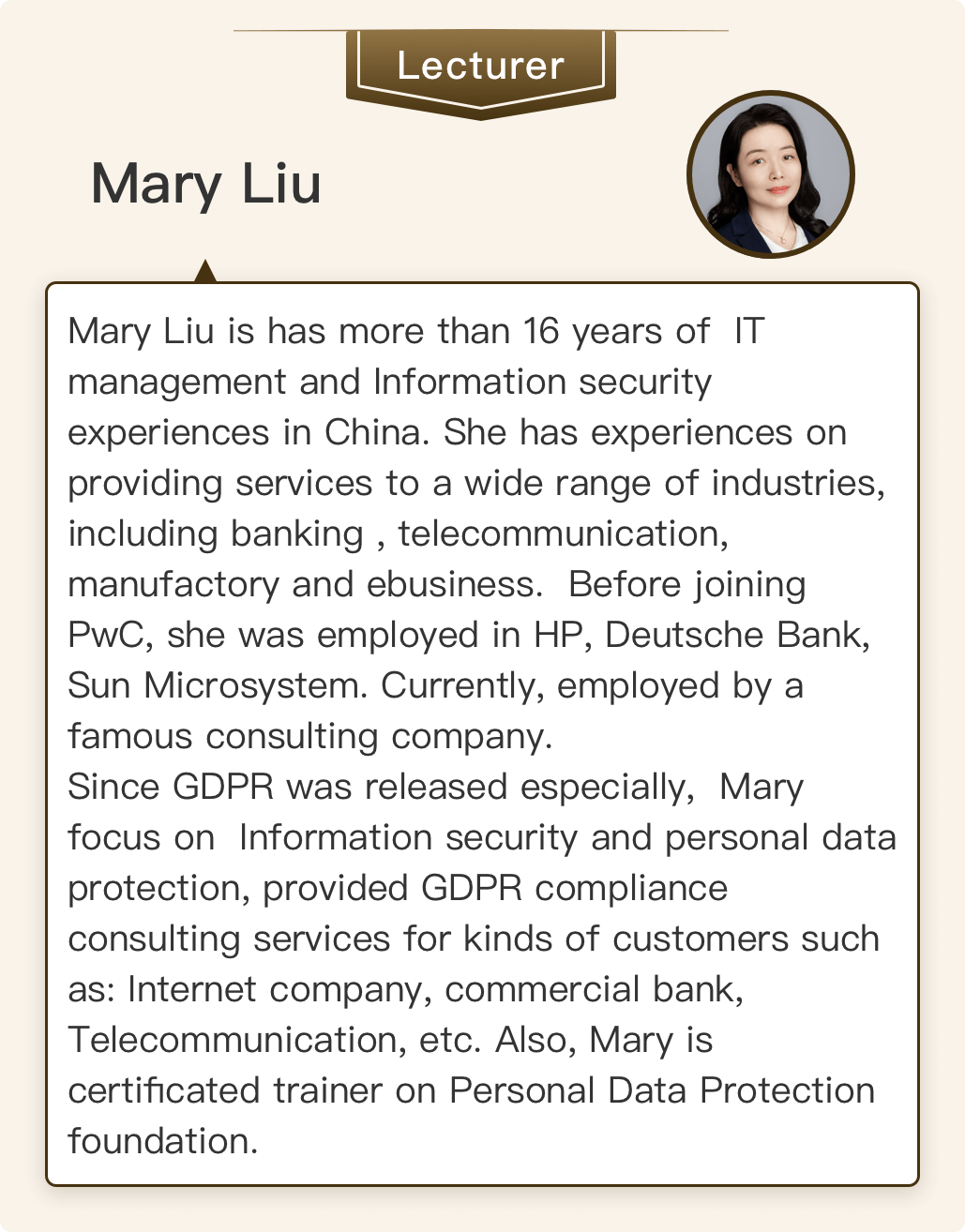 EXIN is a leading independent exam and certification institute, EXIN was originally established in 1984 as a foundation by the Ministry of Economic Affairs in the Netherlands, having certified millions of ICT and Business professionals. EXIN has over 1000 accredited partners in more than 150 countries worldwide. As the founding exam institute of ITIL, EXIN has been certified more than 2 million IT and business management professionals around the globe. EXIN's flexible and innovative services enable candidates to take exams anywhere around the globe in many languages. EXIN enables digital transformation by assessing and validating professional competences. EXIN offers a broad range of relevant and much demanded certifications, e.g. in de field of Digital Service Management such as VeriSM™ , EXIN Agile Scrum, EXIN DevOps, EXIN SIAM™, and emerging technologies from business perspective, such as EXIN Blockchain, EXIN-BCS Artificial Intelligence, Big Data and EXIN Cloud Computing etc. Besides, EXIN offers role-based certification such as Digital Transformation Officer (DTO), and Data Protection Officer (DPO). EXIN also provides EXeed™ (a platform for digital credentialing) and e-CF® NEXT (a competence assessment for professionals).

BDRit is a service organization focused on IT management research, consulting and training founded in 2006. It not only the first organization to introduce TOGAF, FEA, ESA, Archimate and Enterprise Architecture Certification Training into China, but also the first organization to introduce certification training courses into China, such us Cloud Computing, Big Data, Internet of Things, Artificial Intelligence, Blockchain, Network Security, Privacy and Data Production, as well as Business Analysis. As the core participating unit of China New IT Industry Promotion Alliance (NEWITA), BDRit relies on Peking University, Tsinghua University and the industry's top experts and consulting service resources to provide consulting and training services for Chinese enterprises and government departments on professional informatization planning, overall architecture design, digital top-level design, and digital transformation based on international standard methodologies.